Hotel Football, Old Trafford, Manchester: hotel review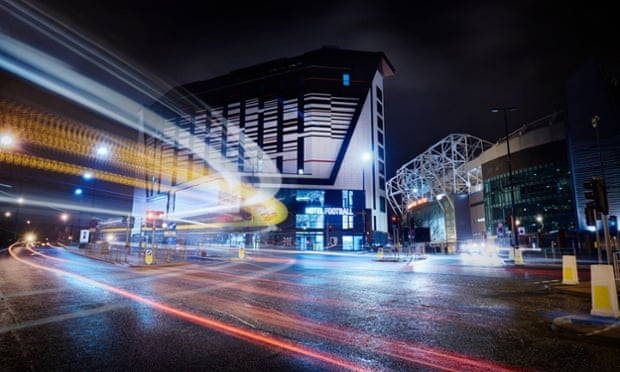 For a moment, after I enter my room at Hotel Football and look out at the neon Old Trafford stadium sign metres from my window, I feel as if a certain brand of lager really does do football dream hotels.
I'm one of those much-derided London-based "Cockney Reds", and often have to book a hotel in Manchester for evening games. So once I work out that my season-ticket seat is actually two minutes' walk from the lobby, I'm in heaven … though I'll soon discover that an actual Heaven is much closer to my eighth-floor room than I think.
Hotel Football is a new four-star, 133-room property from a team fronted by former Manchester United players Gary Neville and Ryan Giggs, with support from their "class of '92" cohorts Paul Scholes, Nicky Butt and Philip Neville. It's not just meant for United supporters such as me though; it's attempting to welcome all fans, with nine floors of cleverly targeted facilities.
For a start, there is a 750-capacity basement bar, called the Old Trafford Supporters Club, with pool tables, TV screens and terrace-themed food such as pie and peas. Entrance is £1, with the fee earmarked for investment in local community projects. I'm staying on a match day (when only home supporters with a match ticket are allowed in), and the place is bubbling with energy. You certainly wouldn't want to arrive with a paperback and hopes of a quiet nook in which to sup your craft beer (£3.50 a pint).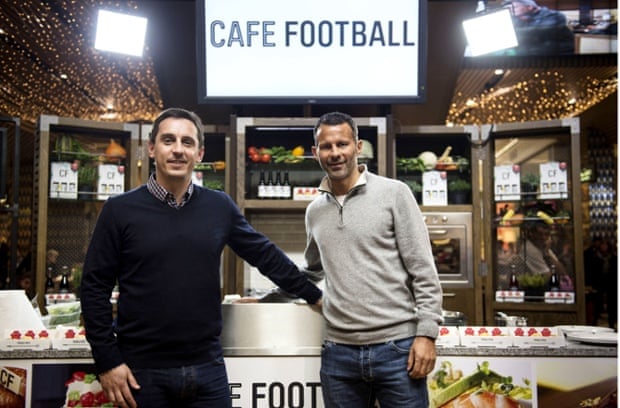 On the ground floor is Cafe Football, a 185-seat restaurant that's open to all and has a menu overseen by two-Michelin-star chef Michael Wignall. The focus is on comfort food with footie-related names: The Special One burger, Overhead Kick pizza, The Turf (chocolate, caramel and praline cake with a green topping and pitch markings in white icing). The restaurant comes with decent credentials: its London branch – in Stratford's Westfield shopping centre – earned a bold review from Observer food critic Jay Rayner.

I sample the Starting Eleven platter (a sharing plate of chicken wings, ribs, fish fingers and mini pies, £16.95), and follow it with The Boss burger (named for ex-manager Sir Alex Ferguson and consisting of dry-aged beef, Scotch bonnet chilli, pulled pork, lime aioli and Asian slaw, £13.95) with a portion of The Turf (£5.95) for pudding. My burger was bland but the chips were crisp and fluffy and the dessert was rich without being sickly.

Heaven, by the way, is the name of the hotel's top floor. While also a gateway to some terrible puns, it's where, on non-match days, you'll find a bookable five-a-side astroturf pitch. On match days Heaven transforms into a bar and barbecue area (for £40, you get food and beer but not a match ticket) with views over Manchester and Salford and nearby attractions such as Media City, the Imperial War Museum North and the Lowry theatre and gallery.

Among the many positives in what will be, for most, a razzmatazzy kind of stay, are the genuinely friendly staff, a breakfast selection that's cheery, robust and down to earth (the full breakfast is epic; my eggs Benedict was a perfectly portioned mix of sweet and savoury) and a supremely comfortable bed with pillows that don't wilt overnight.

That said, the room's colour scheme is corporate and bland, and while the whiteness of the bathroom's separate bath and walk-in shower is meant to reference football changing rooms, the end result is a more budget-flavoured one. Still, the toiletries, designed in sport drinks-style packages boasting the class of '92's squad numbers, should raise a chuckle. There'll probably be no complaint with Giggs' No 11 representing body wash, but I'm not so sure about No 18 – Paul Scholes – as conditioner.

And, in a way, those last two points sum up the Hotel Football conundrum. Who will your guests be really? United supporters or fans of football.

It's the cheeky references to former Manchester United players and the club's history that provide the character. The hotel's owners have ensured it is football focused not United themed and, with a maximum of 26 home match days in a season, maybe that makes sense. But surely it would be better to embrace the club's image and history in a tongue-in-cheek way? How about a Sir Alex Ferguson hairdryer? Or a high-collared Eric Cantona robe? That would be wearing your colours with pride, but with humour, too.

• Eat

Yuzu for sashimi, not sushi. My favourite dishes are the succulent gyoza dumplings and kaisen don, which includes fresh scallop, organic salmon, tuna and sweet prawn sashimi.

• Drink

Simon Rogan's Mr Cooper's at The Midland Hotel has a fine selection of weird and wonderful cocktail combinations and a very reasonable pre-theatre menu.

• Culture

I'm very much looking forward to Manchester International Festival's co -production of The Skriker, starring Maxine Peake this summer (1-18 July). And HOME, a huge new arts space, opens in May with a cracking programme starting with dance company Hofesh Shechter.

• Art

Obviously I have to say my beloved Whitworth, Manchester's gallery in the park, which reopened on Valentine's Day. I also have to mention my other gallery, Manchester Art Gallery in the city centre, with its rich pre-Raphaelite and modern collections.

• Shop

Fig and Sparrow on Oldham Street in the Northern Quarter does great coffee and the best selection of desirable homewares, cards and things you thought you never needed.